Animal Land is a visual metaphor for wildlife in the Anthropocene era, an unfolding narrative that wavers between displacement, reintroduction and loss.
Collaborators Lauren Strohacker and Kendra Sollars reimagine traditional wildlife encounters in a contemporary format - through technology in an urban space with human inhabitants. Indoor and outdoor video projections generate synthetic animals, native to each geographical location, that are completely decontextualized. Void of natural environment, sound, and color, they are activated and influenced by the built environment and human interaction.
Strohacker and Sollars are responding to the current and rapid loss of biodiversity and investigating a future where genuine interactions between humans and non-human animals may not exist.
"Strohacker and Sollars's collaboration is meant to confront in any number of registers, be they aesthetic, socio-political, environmental, etc. The Animal Land Project makes Strohacker and Sollars two of our best pictorial historians of animal presence as well as the present contradictions of our mutually shared life-world." Grant Vetter, The Arts Beacon
3 part interview with Annenberg Space for Photography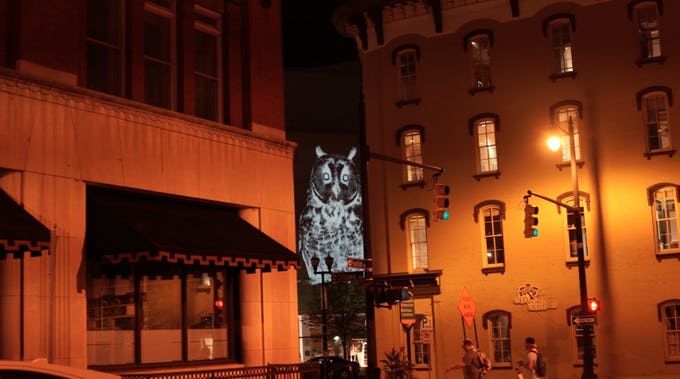 Want to know where Animal Land has been and where you might find it? Check out the map below.